The first exhibition of DOMiDLabs opens!
In the first laboratory of DOMiDLabs everything focuses on the topic 'Encounter'. Together with people from the district of Kalk in Cologne, the questions were explored, among others: What do we think of when we hear the term 'encounter'? What do encounters mean in the district of Kalk? How do we encounter each other in the migration society?
The results of the collaborative work can be seen in the exhibition TREFFPUNKT from 28th of October until 17th of November 2022. Visitors are invited to meet each other, to encounter narratives, places and objects from Kalk - and elsewhere - as well as to share their own contributions. In this way, a dynamic place is created in which exhibition experiences that are somewhat different can be experienced together.
TREFFPUNKT – EINE AUSSTELLUNG ÜBER BEGEGNUNGEN
Exhibition Venue: Halle | Alte Feuerwache Köln, Melchiorstraße 3, 50670 Cologne
Exhibition: 28 October – 17 November 2022
Opening Hours
Monday closed
Friday, 11.11.22 closed
Tue – Fri open 2 p.m. to 7 p.m.
Sat - Sun and holidays open 11 a.m. to 7 p.m.
Private group tours (max. 15 participants) on request at labs@domid.org
Admission and participation in events free of charge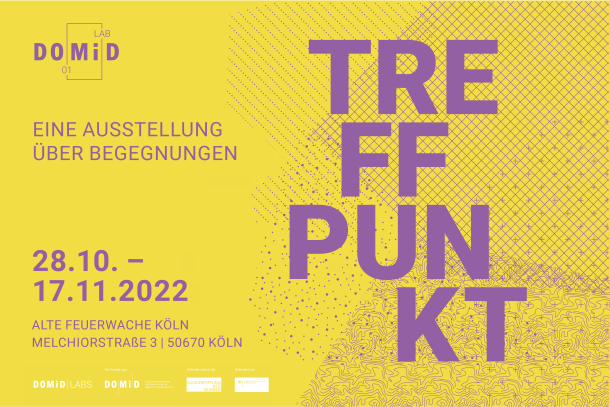 Learn more about the exhibition and it's program.